Celebrities and gemstones go hand in hand. We think of celebrities as people who have endless wealth to spend on whatever they please. And natural gemstones are dazzling and beautiful accessories that seem out of the reach for most of us. So, your favourite movie star or singer owning a huge diamond ring doesn't strike us as surprising celebrity gemstones.
Sapphire has become renowned as the best stone to gift as an engagement ring, and this trend doesn't differ for famous stars. In fact, legend says that gifting sapphires in engagement rings was first started by a celebrity. Carry on reading to find out more.
1

ROYAL SAPPHIRES : THE MOST IMPORTANT
Many Royals from different countries have worn sapphire as engagement rings, but these two stand out as the most famous.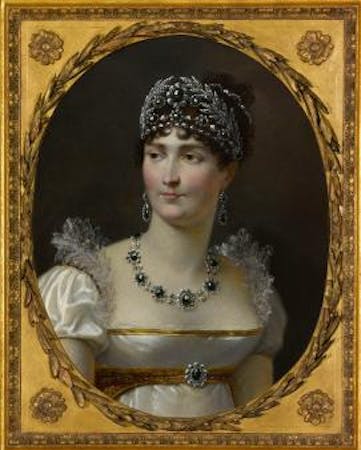 Empress Josephine
Napoleon didn't have much money when he was ready to propose to Josephine. He gathered all the money he could to buy his bride to be a beautiful sapphire and diamond ring on a gold band. In a style called "you and me" the stones are only 1 carat a piece, but the price of history is outstanding. The ring was auctioned in 2013 for close to one million dollars. Learn more about Empress Josephine.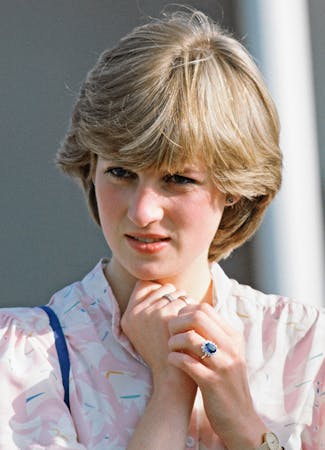 Princess Diana
This is by far the most famous engagement ring of them all. The 18-carat diamond and sapphire piece was purchased in 1981 by Prince Charles and since then as continued to rise in value. Prince William made it even more famous when he proposed to Kate Middleton with his mother's ring. A gesture of love and kindness that would bring anybody to tears.
2

SAPPHIRES ON THE BIG PICTURE
Actress are also famous for going through several engagement rings throughout their life (Jennifer Lopez has had 4 for example). But some really stuck in our mind.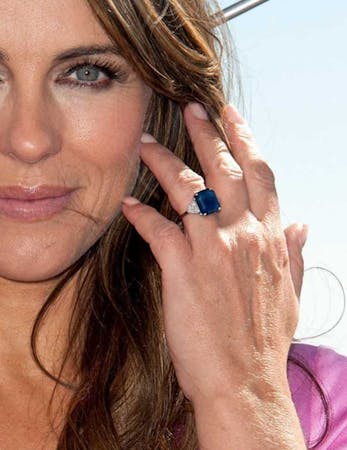 Elizabeth Hurley
In 2011, when the cricketer Shane Warne proposed to the actress, the ring was one of the most expensive ever worn by a celebrity. And it is easy to see why. The platinum band shows off a large 9-carat, square cut sapphire with 2-carat, trillion cut diamonds on each side.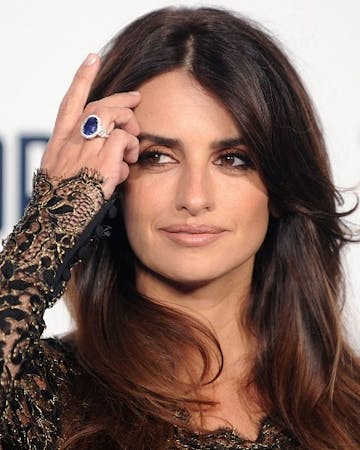 Penelope Cruz
Cruz is lucky enough to wear a vintage 3-carat sapphire gemstone surrounded by diamonds to make it look floral. The stones are set on a gold band and are a beautiful example of natural sapphire.
3

THE CELEBRITY AND GEMSTONE MYTH HOLDS RESPONSIBLE
Whether you believe this story or believe sapphires are gifted as engagement rings because it is a stone Royals, all over the world, have preferred, you need to know about the celebrity woman who is believed to start it all.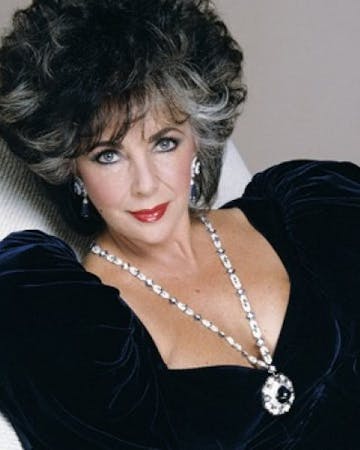 Elizabeth Taylor
The star of the silver screen was huge. It is hard to compare her to any modern-day celebrity, and the paparazzi loved her. So, when in 1952, her second husband to be, Michael Wilding, proposed, the press of the time made a fuss about it. Wilding gifted Taylor with a Cachobon Sapphire, and from that moment until today, sapphires became the engagement ring of choice for A-list celebs.