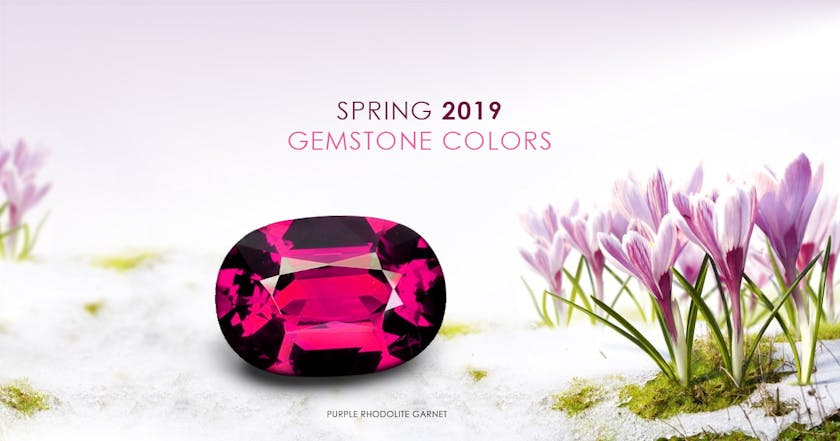 Spring is rapidly approaching, and it is crucial to look your best for this time of year! Spring brings out all the bright colors and fresh new smells of flowers. And like flowers, we too get new colors and wear them with a smile on our faces. So, you need to get your Spring colors and matching gemstones ready for those beautiful moments when the sun comes out. Based on renowned fashion color institute, Pantone, this article will look at some of their chosen Spring colors and their matching gemstones. Once you have read this, you will know what it takes to look amazing this Spring.
1

Living coral

Living coral is a beautiful shade of pink with almost orange hues. Undoubtedly a color made for Spring as it can remind you of pink roses. For that reason, the chosen gemstones to match this colour would be Pink Tourmaline or a Star Ruby. While you can also compliment Living Coral with red natural stones such as Ruby or Rubellite, the two afore mentioned gems would be the best suited to match with it. The different shades of pink, the brightness of the Tourmaline and the striking beauty of the star ruby make them perfect accessories to complement a living coral outfit. One of the most popular Spring colors and matching gemstones.
2

Pepper Stem

Pepper Stem is a yellow-green color that will remind you of the leaf of a citrus tree. Zesty and vibrant, it would look amazing when complimented with Demantoid Garnet or a stunning Cat's Eye. Feel reunited with nature when you wear this Spring colors and their matching gemstones. Pantone claim it shows a 'desire for nature's healthy bounty'. What you can take form that quote is that Pepper Stem encourages health and unity with nature, which could also bring peace to the wearer.
3

Toffee

As the name suggests, Toffee is a brown goldish color that would make anyone hungry. it could be considered a plain color but complimented with beautiful natural gemstones it really can come to life. Try complimented your Toffee outfit with a Grossular Garnet or a Black Star Sapphire. The rarity of the latter will really make your outfit stand-out, especially if you use a stone with a bright star. This will make you, like the star in the Sapphire, shine.
Spring colors and their matching gemstones sorted
Now you know some of the Spring colors and their matching gemstones that will be hot this season, you can go out and look your best! Whether you are wearing the colors mentioned here or any other from Pantone's suggestions, be sure to complement them with a natural gemstone that dazzles. Show your creativity and feel confident in what you wear, those are the true keys to fashion this Spring.