Embrace the sophisticated elegance of classic jewelry that will withstand the test of time and always be a joy to look at when you wear your fine jewelry design.
Classic jewelry includes simplistic mountings and dazzling stones that are ever-popular, easy to mix and match, and suitable for your busy lifestyle.
What are some of the best classic jewelry designs? This short blog post will serve as a buyers guide, offering some examples of timeless mountings, stone settings, and stone cuts you will love from the time you purchase it and for years after.
Classic doesn't have to mean boring – classic can mean refined, everyday glamour.
1

Cathedral Engagement Ring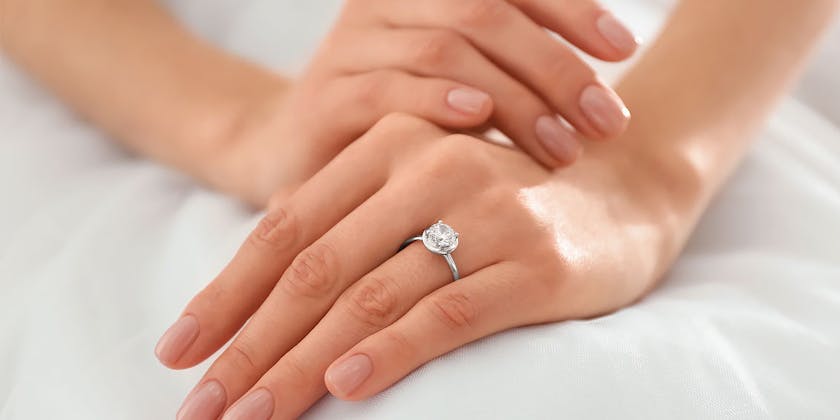 Cathedral engagement rings feature a stone in the middle, usually prong set. The ring goes up into a tapered center, reminiscent of a Cathedral steeple (tower), hence the name. This dramatic shape of the shank gives the center stone a raised design, sitting high atop the finger when worn. 
Cathedral engagement rings are crafted with any fine metal and hold any stone shape. They are also available in cluster or halo styles. Cathedral engagement rings can feature diamonds on the band or the center, such as a hidden halo. 
Why are Cathedral engagement rings classic? These engagement rings are classic jewelry because of their graceful, complementary design. Cathedral diamond engagement rings are easy to pair with wedding bands because of their sleek lines.
2

Eternity Bands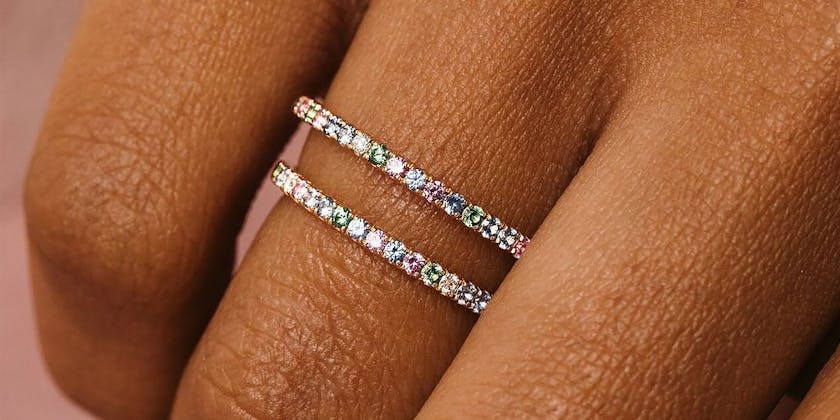 Eternity bands are a classic, must-have staple for your fine jewelry collection! Eternity bands feature sparkling diamonds or other gemstones set in differing amounts. Eternity bands are available with stones placed all the way around, ¾ of the way around, ½ way around, or a ¼ around. 
If you would like a never-ending row of brilliance, vibrancy, or fire, for example, a classic eternity band with diamonds all the way around would be a fantastic selection. 
Why are eternity bands classic? These bands feature an effortlessly dazzling effect with multiple stones similar to Real Infinity Stones laying flush in the band. Eternity bands make the ultimate choice for wedding bands, anniversary bands, or worn as fashion-forward stacking bands with other rings for a highly accessorized look.
3

Tennis Bracelets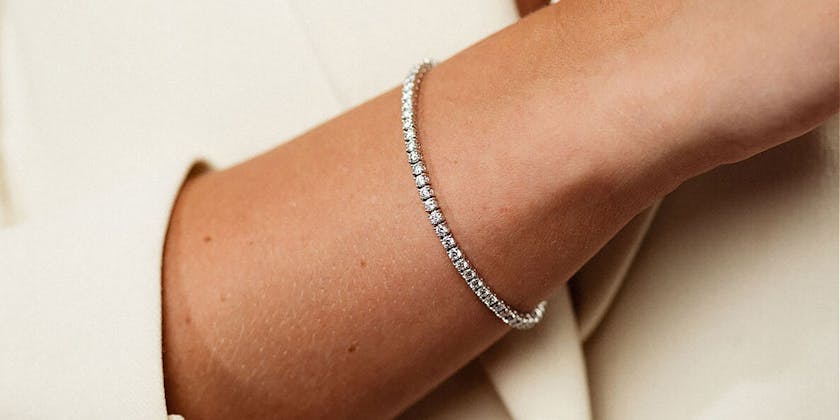 Tennis bracelets feature a never-ending row of stones placed from end to end, in an eternity style setting. Tennis bracelets are available in various diamond shapes, mixed diamond cut clusters and precious and semi-precious gemstones.
Tennis bracelets are ultra-luxurious and make a popular holiday, birthday, or anniversary fine jewelry gift to give to any loved one. Tennis bracelets are THE diamond bracelets that someone would always love to have! Make a day to be remembered with the look of a diamond tennis bracelet and gift it to any loved one.
Why are tennis bracelets classic? Tennis bracelets are classic jewelry because of the limitless designs they offer. Diamond or gemstone tennis bracelets pair well with other bracelets, watches, diamond rings, and so much more.
4

XOXO Bracelets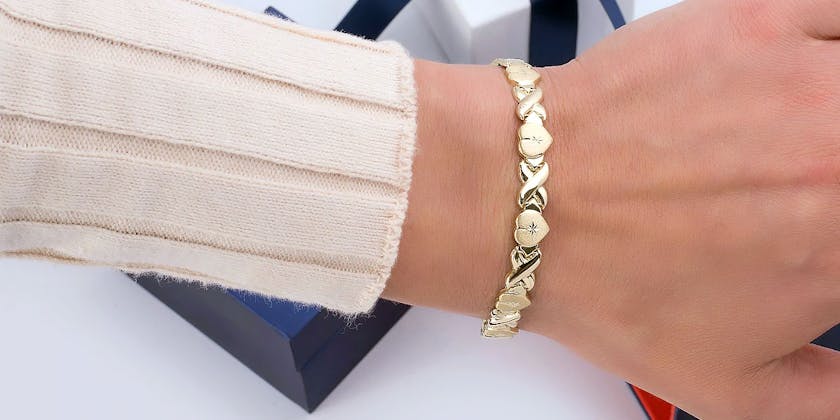 Sometimes this style of bracelet may be considered a tennis bracelet. Hugs and Kisses bracelets feature a row of alternating X and O-shaped links. The O has the stone and alternates with the X, forming an XOXO hugs and kisses pattern. The X may be studded with diamond accents.
Why are XOXO bracelets classic? This link style has been around for years and is known to symbolize love, commitment, and romance, making it the perfect gift to give as a "promise" token or just to show her how much you care.
5

Hoop Earrings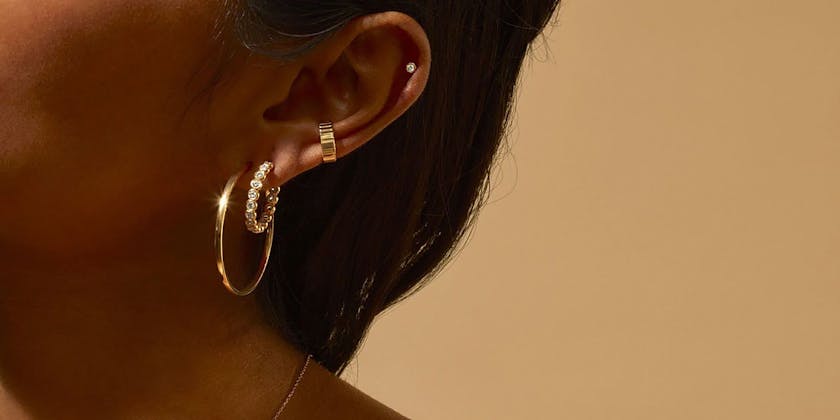 Hoop earrings are a classic jewelry item for any wardrobe! Hoop earrings are made with C-shapes with post backs, infinity style for a never-ending circle, set on Shephard's hooks and drop-dangle, or made with glamorous Omega backs.
Why are hoop earrings classic? Hoops are always suitable for any occasion, including work, casual, or night attire. They come in statement size or mini, slim huggie hoops (ones that sit near your earlobe) and bring attention to your face and other jewelry because of their pleasing geometric shape that is eye-catching with their delightful swing.
6

Solitaire Studs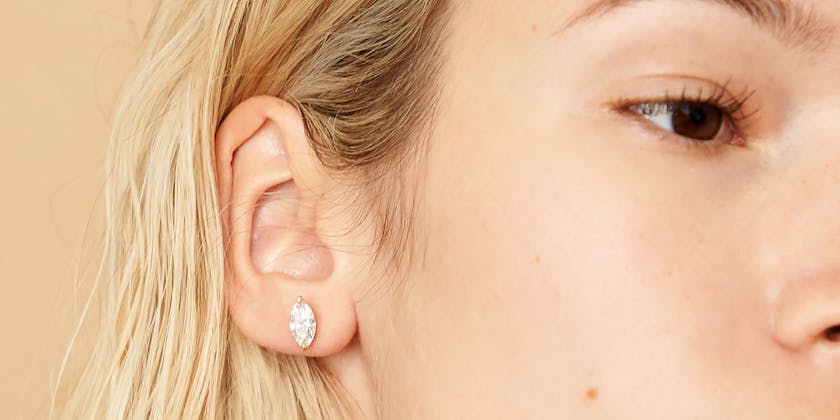 Solitaire studs consist of a single stone on a post or screw back. Solitaire studs are available in a plethora of gemstones, diamonds, shapes, settings, and sizes. Although most frequently thought of as round diamond studs, solitaire studs can mean sapphire or quartz, for example, set as a single stone elegantly sitting next to the earlobe when worn.
Why are solitaire studs classic? Solitaire studs are a classic jewelry item because of their simplistic wearability, appearing as both stunning and professional. Solitaire studs come in extra small sizes or large button shapes.