It's that time of year again: the Pantone Color Institute has announced its prestigious Color of the Year for 2023. This year, the Pantone Color Institute has selected the eye-catching and vibrant hue of Viva Magenta as its choice for 2023. This selection marks a shift away from muted and neutral tones to more expressive, energetic shades.
1

From Pantone

Pantone's Viva Magenta is a bold color that stands out among the other shades. Its vivid hue is electric and draws attention to itself, making it an ideal choice for those looking to make a statement. The Pantone Color Institute considers Viva Magenta a robust and vibrant shade of red-purple, suggesting confidence and creativity. Thus, its use in design projects can imply vibrancy and courage.

The hue also symbolizes youthfulness and energy, making it well-suited for company logos or product packaging for products geared toward young people. It also works well with warm colors such as yellow and orange as well as cool hues like blue and green; when used in combination with complementary shades, the effect can be very striking.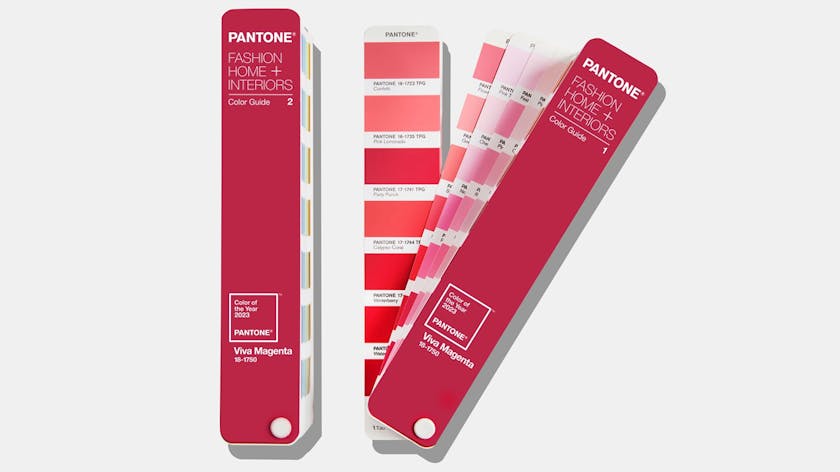 2

Gemstone of the year

So which gemstone will be the color of the year? We have some selections for you in this vibrant shade that has some red-purple colors.
Rubellite Tourmaline
Pink shades of Rubellite Tourmaline is a precious gemstone with a deep magenta hue and mesmerizing sparkle. It is one of the most sought after tourmalines due to its rare and vibrant coloring. Pink Rubellite Tourmaline displays an array of colors ranging from subtle pinks to intense magentas. The color of this stone is caused by the presence of trace elements like manganese, titanium and iron within its molecular structure.
Rhodolite Garnet
Pink rhodolite garnet is a gemstone that is characterized by its vibrant magenta hue and distinctive luster. The stone is sought after for its rich color, which can range from pale to deep pink.
Today, pink rhodolite garnet is prized as a fashionable statement piece. Its unique shade of magenta gives it a graceful presence that can add a subtle touch of glamour to any look.
SAPPHIRES
Pink sapphires
and
purple sapphires
are among the most mesmerizing beauty, these exquisite stones have been coveted for centuries for their captivating color, brilliance and rarity. The shade of pink purple sapphire gems is often described as magenta, a deep and vibrant hue that can create a stunning aesthetic when paired with other colors.
The distinctive hues of pink purple sapphires occur naturally due to trace elements such as iron, magnesium or titanium found within them. Because no two stones are exactly alike, each one offers its own unique beauty and can be used to create breathtaking jewelry pieces that stand out from crowd.
Other shades in lighter or compliment tones we can consider are:
3

Conclusion

It has never been easier to look good than the coming year. We are trying to look to the future are remain positive, so why not brighten up your day to day with one of these most popular gemstones? They are all ideal for every day wear, match perfectly with Veri Peri, the Pantone Color of the Year 2022, and are all very easy to care for.

To ensure your gemstones always look their best, all you need is warm soapy water and a soft towel or brush. Alternatively and for the best results, you should take your jewelry to be cleaned by a professional.

Go out there knowing you look your best with gemstones from starlanka.com
---
Gemstone Color of the Year List
---
Year
 
 
Color
Code
Gemstones
2023
 
 
Viva Magenta
18-1750
Rubellite Tourmaline
Rhodolite Garnet
Sapphires
2022
 
 
Very Peri
17-3938
Tanzanite
Amethyst
Tourmaline
2021
 
 
Illuminating
Ultimate Grey
13-0647
17-5104
Yellow Sapphire
Yellow Tourmaline
Cambolite
2020
 
 
Classic Blue
19-4052
Tanzanite
Blue Tourmaline
Cambolite
2019
 
 
Living Coral
16-1546
Pink Tourmaline
Amethyst
Coral